Hello
Hace poco recibí un mensaje de Pinkcon para hacer una colaboración.
Pinkicon
es una web de Hong Kong de venta de lentillas principalmente, aunque también podemos encontrar ropa, productos de belleza, pelucas, etc.
Some days ago I received an email from Pinkicon to make a colaboration.
Pinkicon is a web from Hong Kong where you can buy circle lenses mainly, but you cand find clothes, beauty products, wigs, etc.
Sobre Pinkicon/
About Pinkicon:
- Dispone de más de 500 modelos de lentillas y productos de maquillaje.
- Has over 500 circle lenses and beauty products.
- Garantía asegurada de autenticidad al 100%
- 100% authentic guaranteed
-Envío gratuito a todo el mundo
- Free shipping worldwide
Además me han proporcionado un código para un 5% de descuento en vuestras futuras compras.
Also they give to me a 5% discount code for your future purchases,
Links:
¿Conocíais Pinkicon?/Did you know Pinkicon?
THANKS FOR READ AND COMMENT!
Goodbye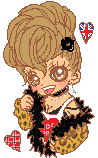 cookiescorpse