B L A C K F R I D A Y
8:15
Hello
Como otros años, vuelve el Black Friday, y con él un montón de tiendas con increíbles ofertas!
Aquí os dejo las que podéis encontrar en las tiendas de mis sponsors :3 yo voy a aprovechar para comprar alguna que otra cosa.
As othe years, Black Friday is back, and with it a lot of shops with wonderful offers!
Here are the offers that you cand find on my sponsors webs :3 I'm going to buy some things.
50% off / 27 nov - 9 dec
50% - 80% off
26th - 29th dec
¿Tenéis pensado comprar algo en el Black Fidary?
Are you going to buy somwthing on Black Friday?
THANKS FOR READ AND COMMENT!
Goodbye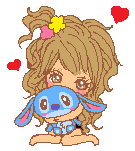 cookiescorpse