#5 Inspiration - Juria Nakagawa
8:19
Hello
Juria Nakagawa
Juria is a 16 years old girl from Tokyo, Japan.
She's a high school student.
I love her style, it's really personal and cool.
She's a huge fashion icon in Japan. She's featured in many Japanese fashion magazines.
I love her dyed hair, so much pastel pretty colors!
And here... her tipycal pose, she's really cute.
You can find her here
Blogger
Instagram
Twitter
Tumblr
What do you think about her?
Did you know her?
THANKS FOR READ AND COMMENT!
Goodbye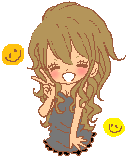 cookiescorpse