[REVIEW] Rimmel London - Extra Super Lash
11:58
Hello
Los días que no me apetece maquillarme utilizo solo rimmel (y crema hidratante por supuesto), por lo que utilizo un rimmel que destaque.
Days that I don't want to makeup I only use rimmel (and moisturizer of course), is that because I use a rimmel that detach.
He probado varios rimmels, principalmente de KIKO, y de otras marcas que me han dejado probar mis amigas. Pero sin duda me quedo con el de Rimmel London. Lo adquirí de casualidad, ya que le vino de muestra en una revista a mi madre.
I tried some rimmels, from KIKO mainly, and other brands that used my friends. But the best is Rimmel London without doubt. I get it from casuality, it comes like sample in a magazine of my mom.
No me suelo fiar de los productos que vienen de muestra en las revistas, pero es que este no me decepcionó. Además el precio es asequible, ya que hace una semana se me gastó y compré uno nuevo por 3'45€.
I usually don't trust magazine products, but this doesn't dissapointed me. And it's cheap, last week I ended the first and I bought one new for 3'45€.
También hay otro rimmel de esta marca que probé hace un tiempo y quedé muy satisfecha (Volume Flash). Puede que compre ese modelo también, ya que el que tengo ahora lo comparto con mi madre. Además la brocha es distinta, da más volumen.
There is other rimmel from this brand that I taste some time ago and it liked me so much (Volume Flash). Maybe I buy it too, because of I share my actual rimmel with my mom. Also has different brush, it does more volumen.
Este modelo proporciona el look que tú desees, desde natural hasta más llamativo/
Builds a natural to dramatic look
Separa bastante las pestañas/
Super lash separation
Adecuado para ojos sensibles/
Suitable for sensitive eyes
Volumen progresivo durante 12h/
Increasing volume for 12h
Disponible en negro y marrón/
Avaliable in black and brown
¿Habéis probado algún producto de esta marca?/Have you tried any product of this brand?
¿Qué opinas sobre este producto?/What do you think about this product?
THANKS FOR READ AND COMMENT!
Goodbye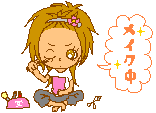 cookiescorpse