New in... cookiescorpse!
7:01
Hello
¿Qué tal va todo? Yo aún sigo en vacaciones, hasta septiembre no empiezo las clases y estoy buscando un trabajo a tiempo parcial (sin éxito de momento) ( ;´Д`)
A la semana que viene me voy unos días con mi novio a las fiestas de su pueblo, así que estaré ausente de nuevo, pero dejaré el post del reto preparado. Lo malo es que he perdido el cargador de mi cámara
(。┰ω┰。) soy un desastre... más me vale encontrarlo pronto para el reto y hacer reviews, que encima me han llegado productos nuevos!
How are you? I'm on holidays, I'll start my classes on september and I'm looking for a parcial job (without success at the moment) ( ;´Д`)
Next week I'll go with my boyfriend to his village to party, so I'll stay off live, but I'll prepare the challenge post. The bad is that I lose my camera's loader (。┰ω┰。) I'm a disaster... I need to find it soon for the challenge and reviews, I've got new products!
Sobre el blog...
Como podéis observar he cambiado la cabecera (ノ◕ヮ◕)ノ*: ・゚✧ AL FIN! Llevaba un tiempo queriendo hacer una nueva, pero no tenía inspiración ni nada y en estos días que tengo bastante tiempo libre me he puesto a ello
As you can see I do a new header (ノ◕ヮ◕)ノ*: ・゚✧ YES! I was a time wanted to do a new header, but I dind't have inspiration and that days that I've got a lot of free time I do it
También he aprovechado para hacer un botón de afiliación, así que ya sabéis, si queréis que nos afiliemos solo basta con dejar un comentario 。◕‿◕。
I do an affiliate button too, so you know, if you want to affiliate us only comment the post 。◕‿◕。
Y por último, ya que no tengo cámara hasta nuevo aviso, he estado pensando en hacer nuevas entradas sobre recomendaciones (blogs, tiendas, series, etc.), así que si tenéis alguna petición o duda, escribidme!
At last, being that I'll not have camera until some days, I was thinking of do new posts about recommendations (blogs, shops, series, etc.), so if you want some petition or doubt, comment!
Y eso es todo de momento, ya tengo algunas entradas pendientes que iré subiendo poco a poco, y otras que voy guardando por si algún día no tengo tiempo de escribir.
And that's all at the moment, I have some outstanding posts to go up slowly, and I'm saving others if some day I not have time to write.
Do you like the new style?
Have you got any suggestion?
THANKS FOR READ AND COMMENT!
Goodbye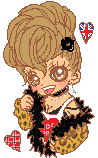 cookiescorpse