Hello
Hoy es mi último día en Zaragoza porque mañana me voy a Barcelona de vacaciones con mis amigas. Estaré cuatro días, y a la vuelta estaré con mi novio en su casa ya que su madre se va a Berlín unos días ψ(*`ー´)ψ así que estaré como una semana sin actualizar.
Espero que lo estéis pasando bien! (●⌒∇⌒●)
Today is my last day in Zaragoza because tomorrow I'm going to Barcelona with my friends. I'll stay four days, and when I'll come back I'll stay with my boyfriend in his house because her mother will go to Berlín some days ψ(*`ー´)ψ so I'll not write since one week.
I hope you're having a great time! (●⌒∇⌒●)
And tell me, how about your holidays?
THANK YOU FOR READ AND COMMENT!
Goodbye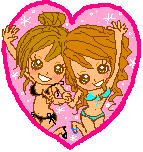 cookiescorpse